Parking, plaza or promenade? Discover attractive, durable alternatives to asphalt & poured concrete.
When considering lifecycle costs, Willow Creek pavers outperform asphalt and poured concrete, while delivering ease of maintenance, durability and beauty. Willow Creek's process of marrying high-strength concrete with classic and contemporary colors creates pavers that meet the highest aesthetic standards of architects and landscape architects and still can carry commuter and commercial traffic loads. Our pavers meet and exceed Interlocking Concrete Pavement Institute (ICPI) / Concrete Masonry & Hardscapes Association (CMHA) and the American Society of Testing and Materials (ASTM) quality standards.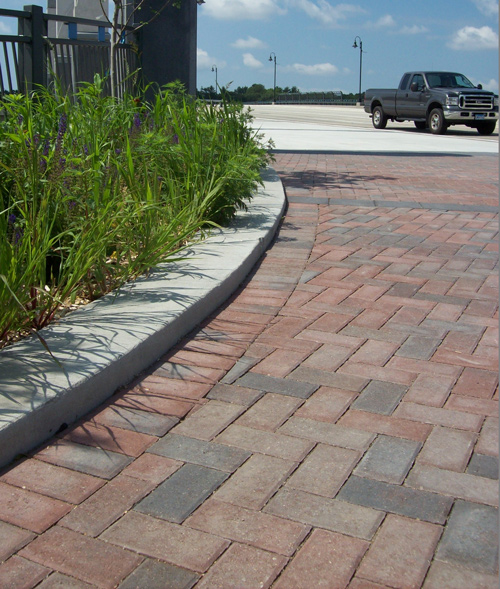 Our paving stones are designed for historic renovation, residential, commercial, public works and municipal construction projects. Our pavers — Eurostone™, Slatestone™, Slatestone Grande™, Tekstone™, Dekrastone™, Brickstone™, Cobblestone™, Circlestone™ and Bullnose™ — are favored by architects and engineers for their beauty, durability and quality. Our Select Series™ of pavers — Slatestone, Slatestone Grande, Dekrastone and Eurostone — incorporate Willow Creek Infusion™ technology that provides vibrant color, enhanced color longevity, heightened durability and additional stain-resistant properties. Available in Signature Colors, Select Series pavers are ideal for both standard and permeable installations.
Contact Willow Creek Paving Stones for more information.
Ledgestone & Ledgestone Tapered
Willow Creek Ledgestone™ units stack up as the most user-friendly landscaping solution available for building naturally rustic freestanding walls, columns and other hardscape features. Ledgestone's 4" x 8" x 12" dimensions make it the perfect modular unit. The Ledgestone Tapered unit (4" x 8" x 8.125" tapering to 5.25") is ideal for curved and serpentine freestanding walls and fire ring borders without the need for cutting. Create walls, planters, fireplaces, grill islands, serving counters and much more with Ledgestone. This unit is the creative designer's best friend. Ledgestone can be matched to Willow Creek's solid and blended color pavers.
Ledgestone Kits
Help your clients create the outdoor living space of their dreams with our Willow Creek Ledgestone Kits. Easy to install yet beautiful and functional, Ledgestone Kits make outdoor spaces more useful, welcoming and comfortable and functional. Help your customers choose the perfect feature — an outdoor grill island, bar/grill island, bar, two-tiered bar, fireplace, fire pit, wood box, water feature and more — or suggest an ensemble for the perfect outdoor living/dining area. Willow Creek Ledgestone Kits come complete with all materials you will need, along with easy-to-follow, step-by-step instructions.
Capstone
At a fraction of the cost and weight of real stone, Willow Creek's Capstone™ Column Caps, Fire Ring Caps, Coping Units and 4' Step Units feature natural-looking chiseled edges. Capstone Column Caps and Coping Units add a finishing touch to columns and freestanding walls. The Capstone Fire Ring Cap will add a distinctive finishing touch to Willow Creek Ledgestone Fire Ring Kits. Fire ring caps have a rich, natural-looking surface, chiseled edges and include four 9.50" wide, easy-to-install lightweight segments. The 4' Step Unit is lighter than natural stone and provides an elegant finish to stairways. Colors include Black, Walnut Brown and Canyon Gray. Install Capstone products with concrete adhesive as you would with any other cap.
Bullnose
Willow Creek Bullnose units add a finishing touch to any paving stone project. Bullnose provides a safe, rounded edge when used as stair treads, edging, pool coping or spa decks. Seat walls are more comfortable when capped with Bullnose units, and Bullnose is often used on outdoor countertops, bar-grill islands and other outdoor features. Ideal for rounding off a raised patio or any paver project, Bullnose units are available in the same colors as Willow Creek Brickstone, Cobblestone and Circlestone pavers and deliver the same unsurpassed durability. Bullnose units are available in the same Traditional and Weathered textures as Willow Creek Paving Stones.
Willow Creek offers a 6" wide Bullnose unit. Our years of expertise have shown that the 6" Bullnose paver is superior when compared with a a standard 4" unit for many reasons that have benefits for both design and installation. For example, 6" Bullnose units cover more area, so they are faster and easier to install. And at 6cm thick, Bullnose pavers work with many other paving stones.
Accessories
Willow Creek carries a complete line of paver accessories, including landscape lighting and more. Landscape lighting adds both ambiance and functionality to any hardscape design. Willow Creek offers several low-voltage selections, including undercap LED lights in kits and singles as well as paver and wall lights in several designs and kits.
Textures
Willow Creek's two distinctive textures will work well with a variety of designs, from a contemporary, crisp-edge look to a more natural, rustic look. The Traditional finish features clean lines and a crisp beveled edge. The Weathered finish features the vintage, hand-hewn look of natural stonework. Our variety of colors and textures can be used to create beautiful designs, such as contrasting bands and borders, color changes, inset patterns and more.
Our Expertise is Your Advantage
Because a successful paver installation is site-specific, site characteristics should be carefully considered for each project. Soil conditions and subgrade percolation rates can vary widely. With years of experience, we can provide expert advice on the technical nuances of installation on bases from sugar sand to bedrock.
We have a variety of resources to help you:
Willow Creek paving stones are preferred over both poured concrete and asphalt surfaces because:
Paver surfaces can flex with soil changes during seasonal freeze-thaw cycles. The freeze-thaw cycle in northern climates can stress asphalt and poured concrete pavements; Willow Creek pavers won't spall or crack.
The interlock among pavers provides stability and durability that typically exceeds that of monolithic surfaces, such as asphalt and poured concrete.
Our pavers' integral colors offer consistency and permanency. Available colors match natural stone and can be mixed and matched easily for great aesthetic results.
If utility access is needed, pavers can be removed easily and replaced when the work is finished, leaving no patch or scar. When access is needed beneath a monolithic surface, such as asphalt or concrete, a section must be cut and removed and the hole patched over, leaving behind an unsightly surface scar.
Pavers are slip-resistant for critical areas such as steps, pool decks and pool coping and resist ice patch formation. Standard snow shovels, snowblowers and snowplows can be used on paver surfaces.
Over their life cycle, pavers cost less in maintenance than poured concrete or asphalt, which can crack or get damaged due to freeze/thaw cycles and are expensive to repair.


Permeable Pavers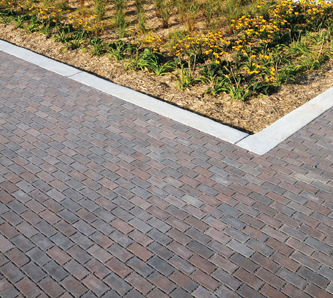 When sustainability and environmentally sensitive designs are an issue, Willow Creek's permeable pavers can be used to dramatically reduce runoff from stormwater and snowmelt. Our most popular products include our Select Series pavers that incorporate Infusion technology are ideal for both standard and permeable installations.
Permeable pavers can qualify your project for LEED credits from the U.S. Green Building Council. Other permeable pavements include pervious concrete, porous asphalt. Often called permeable interlocking concrete pavement (PICP), permeable pavers outperform other surfaces because:
PICP relies on solid, high-strength concrete units to support traffic, surrounded by small, highly pervious stone-filled joints to receive stormwater.
Stone-filled joints in PICP contribute to interlocking permanence and also to the spreading of wheel loads for long-term durability.
Hydrogeological performance of PICPs is superior because of the high surface infiltration rates in the PICP openings, well above practically all rainfall intensities.
PICP units are manufactured in a facility and delivered to the project site. Installation is not subject to time or temperature limitations. Pervious concrete and porous asphalt are subject to weather as the materials are formed on the job site and, as a result, are temperature constrained and subject to site control for successful installation.
PICP units have higher performance, including testing for freeze-thaw performance and compressive strength, unlike pervious concrete and porous asphalt. PICP units have a minimum strength of 8,000 psi, while pervious concrete has an average strength of 2,500 to 3,000 psi.
PICP requires no curing time, while traffic must be kept off of porous asphalt for 24 hours and off of pervious concrete for 7 days.
PICP offers more heat reflection than asphalt and other surfaces, reducing thermal pollution.
For more information download our Permeable Paver Technical Guide.
Adapted from the Interlocking Concrete Paving Institute (ICPI) "Interlocking Concrete Pavement, A Comparison Guide to Porous Asphalt and Pervious Concrete."