Breathe new life into your landscape with shapes, colors, textures & patterns.
Say goodbye to drab concrete and asphalt surfaces. Willow Creek pavers are the preferred pavement of do-it-yourselfers, bringing beauty, utility, durability and ease of maintenance to homeowners. In northern climates, pavers have the advantage over poured concrete and asphalt, because the paved surface can flex as soil heaves and sinks during freeze/thaw cycles. Build the outdoor living space of your dreams with interlocking concrete paving stones from Willow Creek.
It's easy to expand your living space into the great outdoors with
An outdoor kitchen, where you can grill year-round.
An outdoor living room to relax with family and friends.
A circular patio with firepit for fall gatherings and evening entertaining.
Add elegance and curb appeal to your home with a paver driveway or paving stone terrace. Enhance your existing landscape with an elegant stairway or paver walkway, sidewalk or pathway to connect front yard to back yard. Or create a grand entrance.
Willow Creek Paving Stones' Resources
Most of Willow Creek Paving Stones' resources can be found here. The Willow Creek Paver Resource and Installation Guide can help you get started. To calculate materials needed for your project, download the Willow Creek Paving Stones Project Calculator.
In addition, the Interlocking Concrete Pavement Institute (ICPI) / Concrete Masonry & Hardscapes Association (CMHA) has made available a Consumer Guide that covers pavement comparisons, working with a contractor and a checklist for your job. ICPI also has a Maintenance Guide that provides helpful tips to keep paving stone surfaces looking beautiful.
Contact a Willow Creek Paving Stones' distributor for more information.

Textures & Colors
Our paving stones are designed to meet the needs of any residential landscaping project, whether it's D-I-Y or designed and installed by a landscape professional. Our pavers — Eurostone™, Slatestone™, Slatestone Grande™, Tekstone™, Dekrastone™, Brickstone™, Cobblestone™, Circlestone™, Bullnose™ — are favored by both homeowners and contractors alike.
Colors and textures can be used to create stunning designs that include contrasting bands and borders, color changes, and inset patterns. A tasteful palette of colors is available to enhance any landscape. Most of our pavers come in two distinctive textures, Weathered™ and Traditional™. Our Traditional texture features clean, contemporary lines and delivers a tailored look to your landscape, while our Weathered pavers feature the vintage, hand-hewn look of natural stone and a rustic elegance.
Our Select Series™ of pavers — Slatestone, Slatestone Grande, Dekrastone and Eurostone — incorporate Willow Creek Infusion™ technology that provides vibrant color, enhanced color longevity, heightened durability and additional stain-resistant properties. Available in Signature Colors, Select Series pavers are ideal for both standard and permeable installations.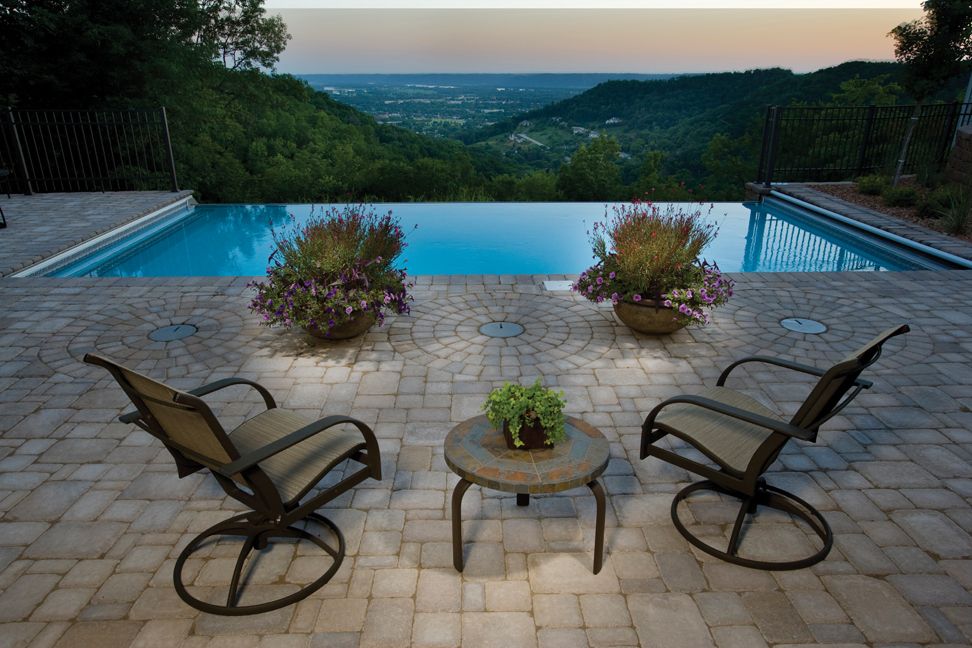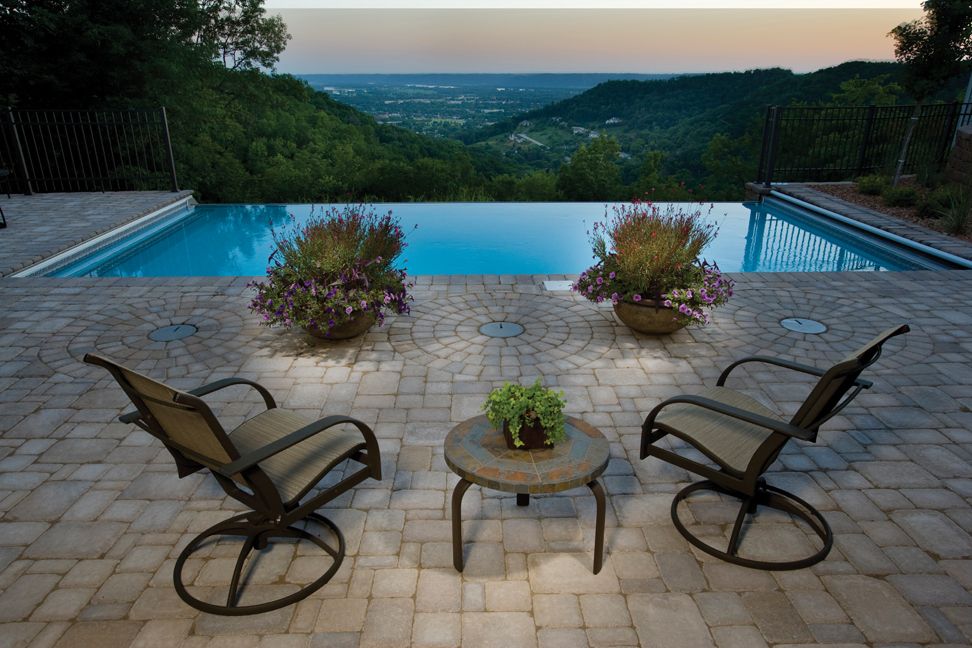 Ledgestone & Ledgestone Tapered
Willow Creek Ledgestone™ units stack up as the most user-friendly landscaping solution available for building naturally rustic freestanding walls, columns and other hardscape features. Ledgestone's 4" x 8" x 12" dimensions make it the perfect modular unit. The Ledgestone Tapered unit (4" x 8" x 8.125" tapering to 5.25") is ideal for curved and serpentine freestanding walls and fire ring borders without the need for cutting. Create walls, planters, fireplaces, grill islands, serving counters and much more with Ledgestone. This unit is the creative designer's best friend. Ledgestone can be matched to Willow Creek's solid and blended color pavers.
Ledgestone Kits
Make your outdoor living space more welcoming, comfortable and functional with an outdoor grill island, bar/grill island, bar, two-tiered bar, fireplace, woodbox, waterfall or fire ring. Pick the perfect kit or choose several to create the outdoor living space of your dreams. Willow Creek Ledgestone Kits come complete with all the materials you will need, along with easy-to-follow, step-by-step instructions.
Capstone
At a fraction of the cost and weight of real stone, Willow Creek's Capstone™ Column Caps, Fire Ring Caps, Coping Units and 4' Step Units feature natural-looking chiseled edges. Capstone Column Caps and Coping Units add a finishing touch to columns and freestanding walls. The Capstone Fire Ring Cap will add a distinctive finishing touch to Willow Creek Ledgestone Fire Ring Kits. Fire ring caps have a rich, natural-looking surface, chiseled edges and include four 9.50" wide, easy-to-install lightweight segments. The 4' Step Unit is lighter than natural stone and provides an elegant finish to stairways. Colors include Black, Walnut Brown and Canyon Gray. Install Capstone products with concrete adhesive as you would with any other cap.
Bullnose
Willow Creek Bullnose™ units add a finishing touch to any paving stone project. Bullnose provides a safe, rounded edge when used as stair treads, edging, pool coping or spa decks. Seat walls are more comfortable when capped with Bullnose units, and Bullnose is often used on outdoor countertops, bar-grill islands and other outdoor features. Ideal for rounding off a raised patio or any paver project, Bullnose units are available in the same colors as Willow Creek Brickstone, Cobblestone and Circlestone pavers and deliver the same unsurpassed durability. Bullnose units are available in the same Traditional and Weathered textures as Willow Creek Paving Stones.
Willow Creek offers a 6" wide Bullnose unit. Our years of expertise have shown that the 6" Bullnose paver is superior when compared with a standard 4" unit for many reasons that benefit both contractors and homeowners. For example, 6" Bullnose units cover more area, so they are faster and easier to install. And at 6cm thick, Bullnose pavers work with many other paving stones.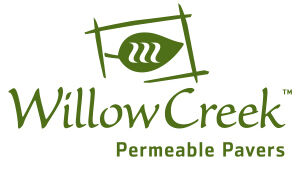 Permeable Pavers – A Green Solution
Willow Creek permeable pavers offer an environmentally sound paving solution for a greener, sustainable future. Interlocking concrete permeable paving stones reduce runoff into storm sewers and allow rain to infiltrate into the soil. Many municipalities have impervious surface limits, and permeable pavers offer a solution to adding paved surfaces without exceeding those limits.
Willow Creek offers permeable solutions in a range of shapes and colors. In addition, our Select Series of pavers can be installed as permeable solutions or traditional installations. Learn more about the advantages of permeable paving stones here.
Permeable pavers offer several environmental benefits:
It helps keep contaminants such as fertilizers, pesticides, vehicle fluids, and pet waste out of storm sewers. Once in the storm sewer, these materials end up in the waterways into which the sewers empty.
It helps manage water volume. The additional water that storm sewers contribute to waterways can accelerate shoreline erosion.
It helps manage water temperature. Runoff from an asphalt parking lot absorbs heat from the asphalt and warms the waterway into which it empties. This temperature increase, called thermal pollution, can affect some aquatic life.
It helps replenish groundwater and allows soil bacteria to break down potential pollutants naturally.
As part of local stormwater management initiatives, watershed districts might offer incentives when a property owner decides to install permeable pavers. Start by looking for the state association of watershed districts where you live. For example, in Minnesota, you can visit www.mnwatershed.govoffice.com for more information.