Permeable Pavers are a Green Solution.
When sustainability and environmentally sensitive designs are an issue, Willow Creek's permeable pavers can be used to dramatically reduce runoff from stormwater and snowmelt. Our most popular products include Willow Creek Aqua-Loc® and Brickstone Permeable™ pavers.

In addition, our Select Series™ pavers that incorporate Infusion™ technology are ideal for both standard and permeable applications.
Permeable paving stones reduce runoff into storm sewers and allow rain to infiltrate into the soil. Many municipalities have impervious surface limits, and permeable pavers offer a solution to adding paved surfaces without exceeding those limits.

Contact a Willow Creek Paving Stones' distributor for more information.

Aqua-Loc permeable pavers enable runoff to drain into below-grade retention areas or infiltrate naturally back into the ground.
Learn More
Brickstone Permeable pavers can be laid in numerous patterns or with traditional Brickstone paving stones to create a seamless transition between permeable and impermeable surfaces.
Learn More
Stormwater & Permeable Paver Advantages
Stormwater that flows across fields, yards and paved surfaces carries pesticides, vehicle fluids, fertilizers and other pollutants. These pollutants then become concentrated in lakes and waterways when discharged from storm sewers. Fortunately, awareness of the problem is growing, and mitigating technologies have become available.
Permeables pavers (or permeable interlocking concrete pavements PICP) are among the tools available to reduce stormwater runoff and improve water quality. Because they allow rainwater and snowmelt to infiltrate onsite, through the paved surface and into the subsoil, PICP systems help protect aquatic ecosystems, conserve water resources and mitigate flooding, while supporting vehicle and pedestrian traffic. Willow Creek permeable pavers provide an attractive, high-performance PICP stormwater management option suitable for residential, commercial and public works applications.
Permeable pavers offer several environmental benefits. They
Help keep contaminants such as fertilizers, pesticides, vehicle fluids, and pet waste out of storm sewers. Once in the storm sewer, these materials end up in the waterways into which the sewers empty.
Help manage water volume. The additional water that storm sewers contribute to waterways can accelerate shoreline erosion.
Help manage water temperature. Runoff from an asphalt parking lot absorbs heat from the asphalt and warms the waterway into which it empties. This temperature increase, called thermal pollution, can affect some aquatic life.
Help replenish groundwater and allow soil bacteria to break down potential pollutants naturally.
Ecological Benefits
Reduce pollutant runoff into waterways
Reduce thermal pollution of waterways
Reduce "heat island" effect of paved surfaces
Recharge groundwater
Economic Benefits
Gain usable space on properties
Reduce need for retention ponds
Reduce costs of stormwater drainage
Earn LEED credits
Performance Benefits
Eliminates puddles on pavement
Eliminates ice patches by draining snow melt
Low maintenance
Durable beauty
Permeable Pavers vs. Other Permeable Pavements

Permeable pavement includes pervious concrete, porous asphalt and permeable pavers. Permeable pavers (PICP) are superior to other pervious surfaces because
PICP relies on solid, high-strength concrete units to support traffic, surrounded by small, highly pervious stone-filled joints to receive stormwater.
Stone-filled joints in PICP contribute to interlocking permanence and also to the spreading of wheel loads for long-term durability.
Hydrogeological performance of PICPs is superior because of the high surface infiltration rates in the PICP openings, well above practically all rainfall intensities.
PICP units are manufactured in a facility and delivered to the project site. Installation is not subject to time or temperature limitations. Pervious concrete and porous asphalt are subject to weather as the materials are formed on the job site and, as a result, are temperature constrained and subject to site control for successful installation.
PICP units have higher performance, including testing for freeze-thaw performance and compressive strength, unlike pervious concrete and porous asphalt. PICP units have a minimum strength of 8,000 psi, while pervious concrete has an average strength of 2,500 to 3,000 psi.
PICP requires no curing time, while traffic must be kept off of porous asphalt for 24 hours and off of pervious concrete for 7 days.
PICP offers more heat reflection than asphalt and other surfaces, reducing thermal pollution.
Adapted from the Interlocking Concrete Paving Institute (ICPI) "Interlocking Concrete Pavement, A Comparison Guide to Porous Asphalt and Pervious Concrete."
Winter Weather Advantage
Melting snow drains immediately through permeable pavers, creating sure footing for pedestrians and eliminating the risk of re-freeze.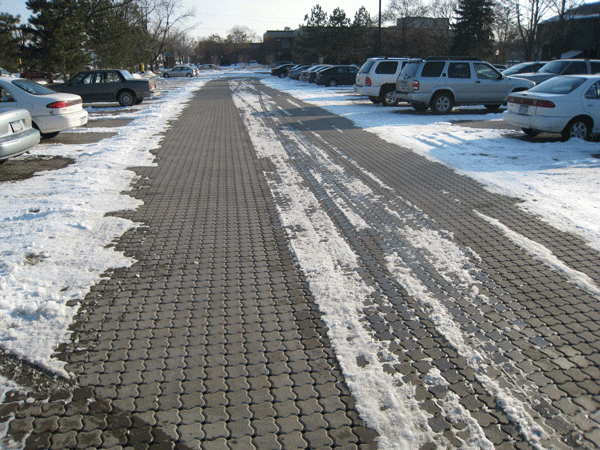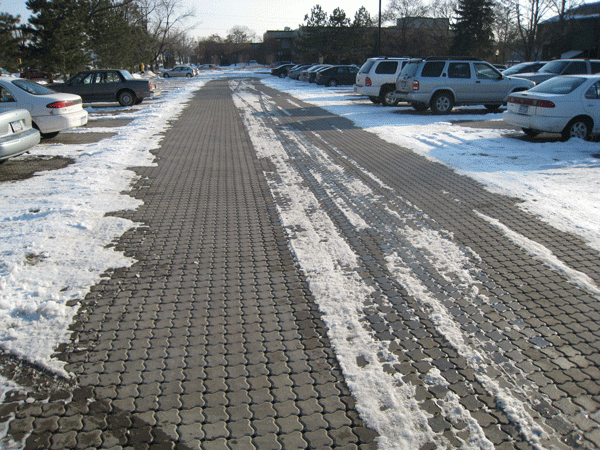 Impervious surfaces hold standing water and slush, creating unsightly obstacles for pedestrians and a safety hazard when water re-freezes.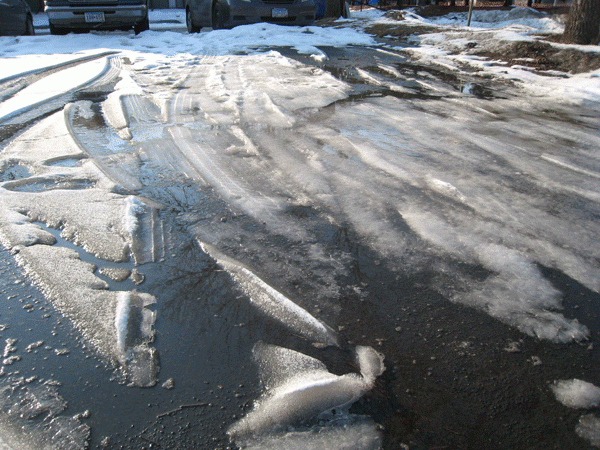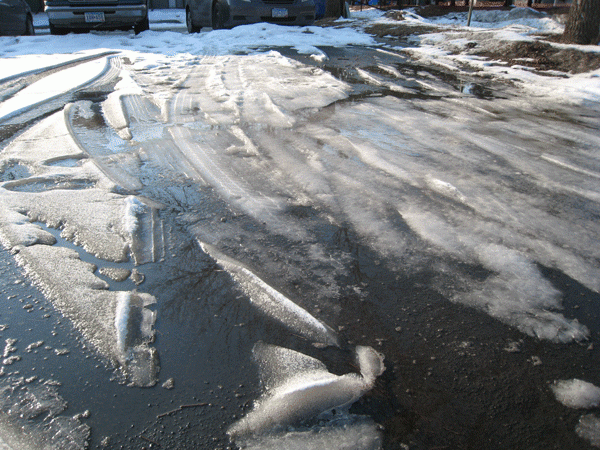 LEED Credits & Watershed Incentives

Permeable pavers can qualify your project for Leadership in Energy and Environmental Design (LEED) credits from the U.S. Green Building Council. LEED-certified facilities will experience reduced maintenance and life-cycle operation costs. Recognizing that, many specifiers for building projects are beginning to write LEED certification requirements into bid specifications. And LEED points can be decisive in getting your projects approved by regulatory agencies in environmentally sensitive areas.That's where permeable pavers can help. Willow Creek permeable pavers can earn LEED credits in several categories:
STORMWATER RUNOFF REDUCTION (SS CREDITS 6.1, 6.2) One point can be earned for building on sites where the existing impervious area is greater than 50 percent and the rate and quantity of runoff is reduced by at least 25 percent. Permeable interlocking concrete pavements can reduce runoff to zero for typical storms.
LOCAL MATERIALS (MR CREDITS 5.1, 5.2) One to two points can be earned for using local materials: a minimum of 10 to 20 percent of building materials manufactured within a radius of 800 km (500 miles). An additional point is earned if 50 percent of the regionally manufactured materials are extracted, harvested or recovered within this same radius.
HEAT ISLAND REDUCTION (SS Credit 7.1) One point can be earned for heat island reduction. An option for meeting this requirement is to use light-colored materials, including pavers, with a Solar Reflectance Index (SRI) of at least 29 for 50 percent of the site's non-roof impervious surfaces.
In addition, property owners can contact watershed districts or watershed management authorities to locate incentive opportunities in their area.
Accessories
The PermEdge edge restraint system for permeable pavers accommodates straight and curved applications. Other installation tools can be found here.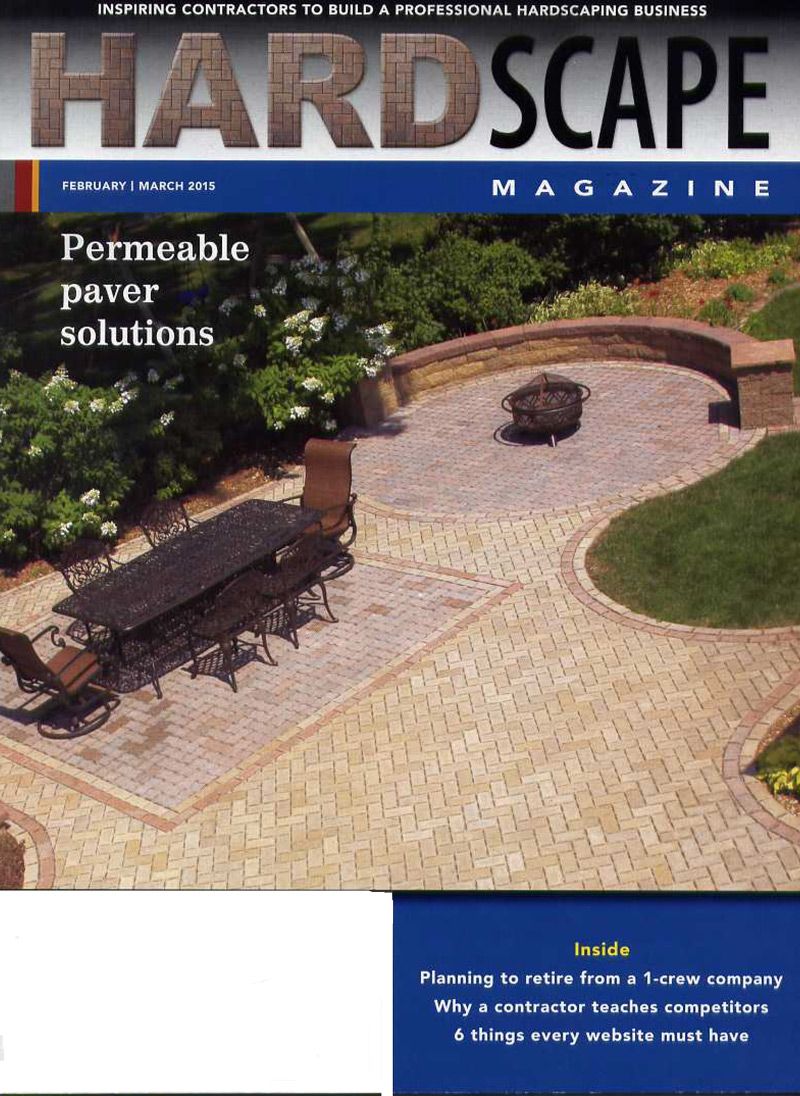 More Information
For more information, download:
Read an article on Willow Creek Permeable Pavers appeared in Hardscape magazine here.