Durability & consistency make Willow Creek Paving Stones the clear choice for interlocking concrete pavers.
Willow Creek Paving Stones' process of marrying high-strength concrete with classic tones, colors and textures results in durability and beauty as well as satisfied customers. Willow Creek pavers are the right choice to meet the most demanding challenges facing landscape contractors. Willow Creek pavers are preferred over both poured concrete and asphalt surfaces because they remain flexible during freeze-thaw cycles, offer interlocking stability, can be easily removed or replaced for maintenance, are slip resistant and have other advantages. When you install Willow Creek pavers, you install them for life.

Our paving stones are designed to meet the needs of any residential, commercial or public works landscaping project. Our pavers — Eurostone™, Slatestone™, Slatestone Grande™, Tekstone™, Dekrastone™, Brickstone™, Cobblestone™, Circlestone™, Bullnose™ — are favored by contractors for their durability, quality, beauty and installation advantages. Our Select Series™ of pavers — Slatestone, Slatestone Grande, Dekrastone and Eurostone — incorporate Willow Creek Infusion™ technology that provides vibrant color, enhanced color longevity, heightened durability and additional stain-resistant properties. Available in Signature Colors, Select Series pavers are ideal for both standard and permeable installations.
The Willow Creek Paver Resource and Installation Guide can help you get started. To calculate materials needed for your project, download the Willow Creek Paving Stones Project Calculator. Here is our permeable installation calculator.
Contact a Willow Creek Paving Stones' distributor for more information.
Textures & Colors
Willow Creek's two distinctive textures will satisfy any customer's wishes, from a contemporary look to a more natural, rustic look. The Traditional finish features clean lines and a crisp beveled edge. The Weathered finish features the vintage, hand-hewn look of natural stonework. Our variety of colors and textures can be used to create beautiful designs, such as contrasting bands and borders, color changes, inset patterns and more.
---
Our Expertise is Your Advantage
We have a variety of resources to help you: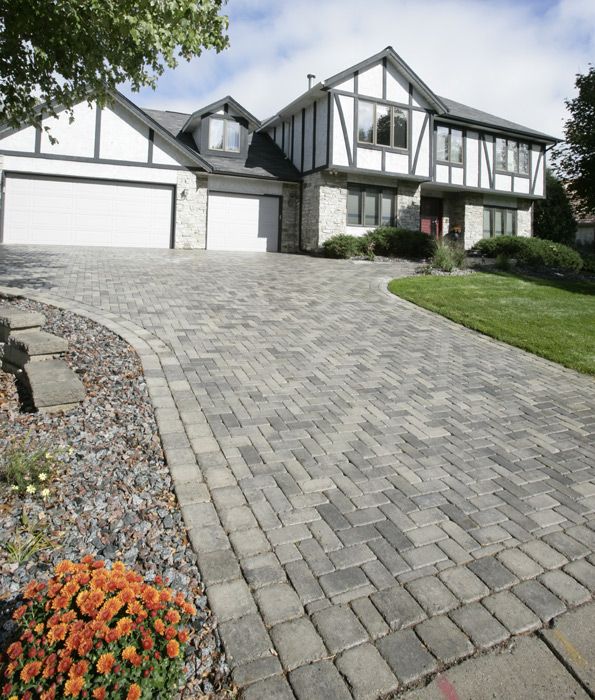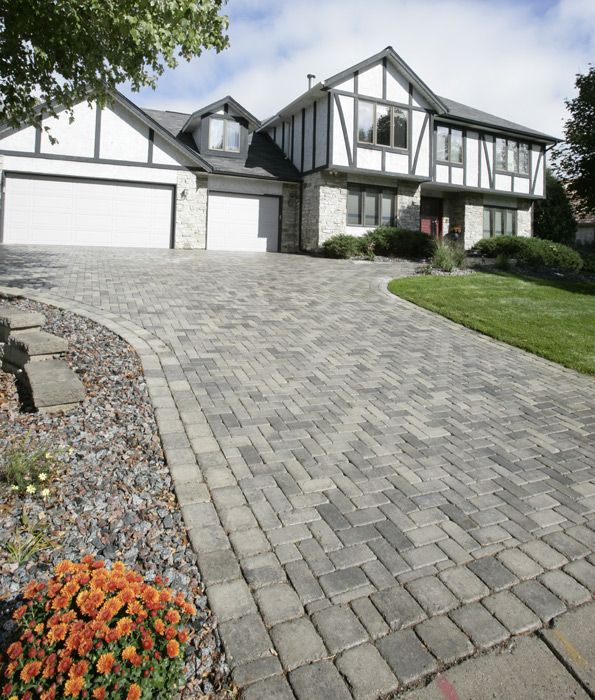 Ledgestone & Ledgestone Tapered

Willow Creek Ledgestone™ units stack up as the most user-friendly landscaping solution available for building naturally rustic freestanding walls, columns and other hardscape features. The creative designer's best friend, Ledgestone's 4" x 8" x 12" dimensions make it the perfect modular unit. The Ledgestone Tapered unit (4" x 8" x 8.125" tapering to 5.25") is ideal for curved and serpentine freestanding walls and fire ring borders without the need for cutting. Create walls, planters, fireplaces, grill islands, serving counters and much more with Ledgestone. Ledgestone can be matched to Willow Creek's solid and blended color pavers.
Ledgestone Kits
Help your clients create the outdoor living space of their dreams with our Willow Creek Ledgestone Kits. Easy to install yet beautiful and functional, Ledgestone Kits make outdoor spaces more useful, welcoming and comfortable and functional. Help your customers choose the perfect feature — an outdoor grill island, bar/grill island, bar, two-tiered bar, fireplace, fire pit, wood box and more — or suggest an ensemble for the perfect outdoor living/dining area. Willow Creek Ledgestone Kits come complete with all materials you will need, along with easy-to-follow, step-by-step instructions.
Capstone
At a fraction of the cost and weight of real stone, Willow Creek's Capstone™ Column Caps, Fire Ring Caps, Coping Units and 4' Step Units feature natural-looking chiseled edges. Capstone Column Caps and Coping Units add a finishing touch to columns and freestanding walls. The Capstone Fire Ring Cap will add a distinctive finishing touch to Willow Creek Ledgestone Fire Ring Kits. Fire ring caps have a rich, natural-looking surface, chiseled edges and include four 9.50" wide, easy-to-install lightweight segments. The 4' Step Unit is lighter than natural stone and provides an elegant finish to stairways. Colors include Black, Walnut Brown and Canyon Gray. Install Capstone products with concrete adhesive as you would with any other cap.
Bullnose
Willow Creek Bullnose™ units add a finishing touch to any paving stone project. Bullnose provides a safe, rounded edge when used as stair treads, edging, pool coping or spa decks. Seat walls are more comfortable when capped with Bullnose units, and Bullnose is often used on outdoor countertops, bar-grill islands and other outdoor features. Ideal for rounding off a raised patio or any paver project, Bullnose units are available in the same colors as Willow Creek Brickstone, Cobblestone and Circlestone pavers and deliver the same unsurpassed durability. Bullnose units are available in the same Traditional and Weathered textures as Willow Creek pavers.
Willow Creek offers a 6" wide Bullnose unit. Our years of expertise have shown that the 6" Bullnose paver is superior when compared with a a standard 4" unit for many reasons that benefit both contractors and homeowners. For example, 6" Bullnose units cover more area, so they are faster and easier to install. And at 6cm thick, Bullnose pavers work with many other paving stones.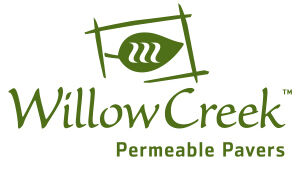 Permeable Pavers - A Green Solution
Permeable pavement includes pervious concrete, porous asphalt and permeable pavers (also called permeable interlocking concrete pavement or PICP). Permeable pavers rely on solid, high-strength concrete units to support traffic surrounded by small, highly pervious stone-filled joints that allow stormwater to infiltrate into the soil and reduce runoff into storm sewers. Many municipalities now require reductions in stormwater runoff, and permeable pavers are the green solution.
Willow Creek permeable pavers offer this environmentally sound paving solution to support a greener, sustainable future. Willow Creek offers permeable solutions in a range of shapes and colors. Our Select Series of pavers are ideal for both standard and permeable installations.
The use of permeable pavers provides several environmental benefits in stormwater control:

It helps keep contaminants such as fertilizers, pesticides, vehicle fluids and pet waste out of storm sewers. Once in the storm sewer, these materials end up in the waterways into which the sewers empty.
It helps manage water volume. The additional water that storm sewers contribute to waterways can accelerate shoreline erosion.
It helps manage water temperature. Runoff from an asphalt parking lot absorbs heat from the asphalt and warms the waterway into which it empties. This temperature increase, called thermal pollution, can affect some aquatic life.
It helps replenish groundwater and allows soil bacteria to break down potential pollutants naturally.
Because a successful installation is site-specific and every site is different, we recommend that contractors carefully consider site characteristics, such as soil conditions and subgrade percolation rates, which can vary widely. With years of experience, we know the technical nuances of installation on everything from sugar sand to bedrock. Learn more about the advantages of permeable pavers here.