Minnesota made. Midwest strong.
Landscape professionals throughout the Midwest turn to Willow Creek Paving Stones for concrete pavers that are unmatched in strength and beauty. We marry high-strength concrete with classic tones and textures of the earth to create interlocking pavers that withstand the Midwest's extreme seasonal weather cycles and loads from commuter and commercial traffic, while meeting the most demanding challenges of landscape aesthetics.

Our pavers — Eurostone™, Slatestone™, Slatestone Grande™, Tekstone™, Dekrastone™, Brickstone™, Cobblestone™, Circlestone™, Bullnose™ — are suitable for any landscaping project, residential or commercial.
Our Select Series™ of pavers — Slatestone, Slatestone Grande, Dekrastone and Eurostone — incorporate Willow Creek Infusion™ technology that provides vibrant color, enhanced color longevity, heightened durability and additional stain-resistant properties. Select Series pavers are ideal for both standard and permeable installations. Willow Creek Capstone products give you options for stair treads, fire ring caps, columns caps, and coping units, for a stunning finish.
Most paver styles come in two distinctive textures, Weathered™ and Traditional™. Our Traditional texture features clean, contemporary lines and delivers a tailored look to your landscape, while our Weathered pavers feature the vintage, hand-hewn look of natural stone and a rustic elegance.
And to expand your options further, we offer Ledgestone™ and Ledgestone Kits in color blends that match our pavers. Ledgestone units are ideal for freestanding walls and columns, outdoor grills and counters, raised gardens and countless other applications. And if you don't want to design it yourself, our Ledgestone Kits come with everything you need to build a fire ring, bar & grill, grill island, water or fire feature, woodbox or pizza oven. We offer numerous kits to choose from.
Like the centuries-old cobblestone streets of Europe, Willow Creek pavers are made to withstand the tests of time ... beautifully.
Contact a Willow Creek Paving Stones' distributor for more information.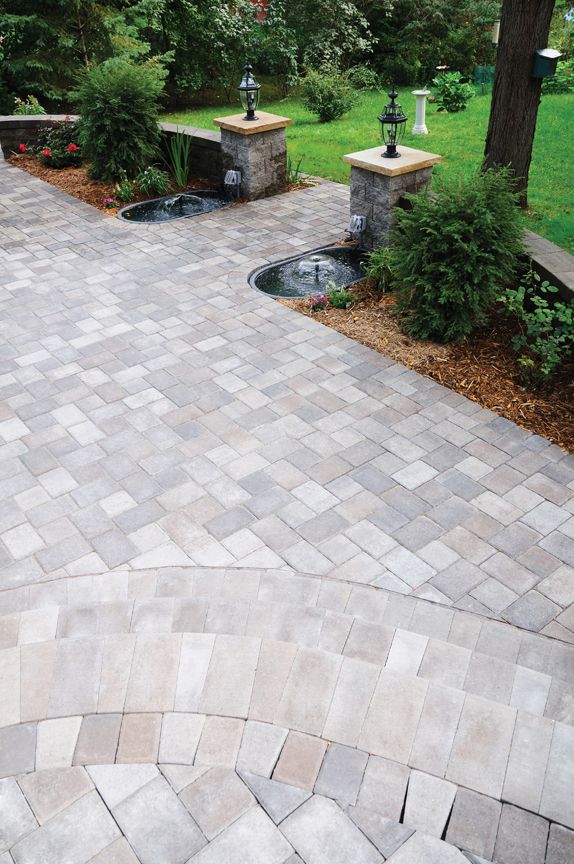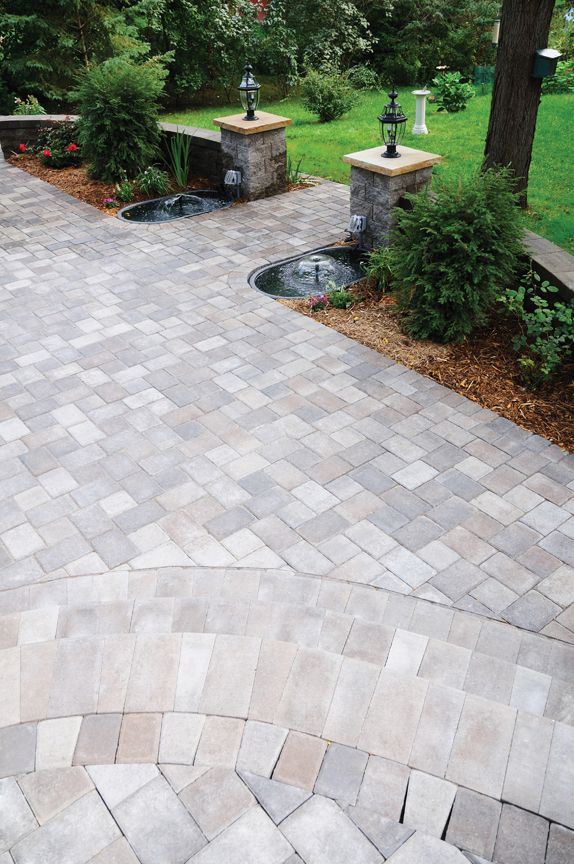 Below: Weathered (L) and Traditional (R)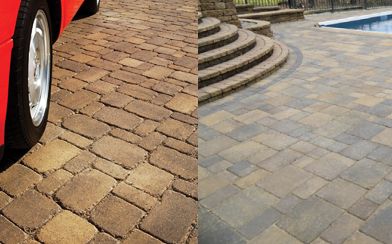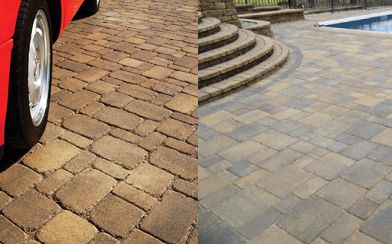 Paver Advantages

Willow Creek pavers are preferred over both poured concrete and asphalt surfaces because:
In northern climates, pavers have a distinct advantage over poured concrete and asphalt because paver surfaces can flex with soil changes during seasonal freeze-thaw cycles. The freeze-thaw climate can stress poured concrete and asphalt pavements; Willow Creek pavers won't spall or crack.
Interlocking patterns won't shift and offer incredible stability, unlike a fixed, monolithic surface, such as poured concrete or asphalt.
Our pavers' integral colors offer consistency and permanency, unlike stained concrete, in which the surface color can wear away or fade. Available colors match natural stone and can be easily mixed and matched for great aesthetic results.
Pavers can be easily replaced if needed. Unlike asphalt or poured concrete surfaces, no scarring occurs when areas are removed for underground utility work or repair.
Pavers are slip-resistant for critical areas such as steps and pool coping and resist ice patch formation. No special snow removal is required. Standard snow shovels, snowblowers and snowplows can be used on a paver surface.
To learn more about the benefits of interlocking concrete pavers from aesthetic, ergonomic and functional perspectives, visit Paveshare.org. Created and maintained by the College of Environment and Design at the University of Georgia, Paveshare offers self-guided presentations with interactive animations and a project library spanning concept to construction.